URBNVTG
Regular price
Sale price
$48.99
Unit price
per
Sale
Sold out
"TRUST NOBODY" Biggie and Tupac t-shirt with a tie dye bleach design. Graphic t-shirt also has rose patches on the top half of the shirt. Each piece is custom made and one of a kind.
- MEASUREMENTS:
* Model is 5'10 with a 24 inch waist wearing size 2XL.
**Measurements are taken with garment laying flat**
SMALL:
*Bust: 23 inches
*Waist: 23 inches
*Hips: 23 inches
*Length:28 inches
MEDIUM:
*Bust: 24 inches
*Waist: 24 inches
*Hips: 24 inches
*Length: 29 inches
LARGE:
* Bust: 25 inches
* Waist: 25 inches
* Hips: 25 inches
* Length: 30 inches
X-LARGE:
* Bust: 26 inches
* Waist: 26 inches
* Hips: 26 inches
* Length: 31 inches
XX-Large
* Bust: 26 inches
* Waist: 27 inches
* Hips: 28 inches
* Length: 32 inches
- DETAILS:
* Each t-shirt is cut as a regular t-shirt NOT as a dress. Please SIZE UP TWO sizes to wear as a t-shirt dress
* * EACH PIECE IS ONE OF A KIND. COLORS/DESIGN VARIES.* *
- SHIPPING:
* Order will be shipped in 1-3 business days
Please contact us if you have any questions.
We respond very quickly!
Share
View full details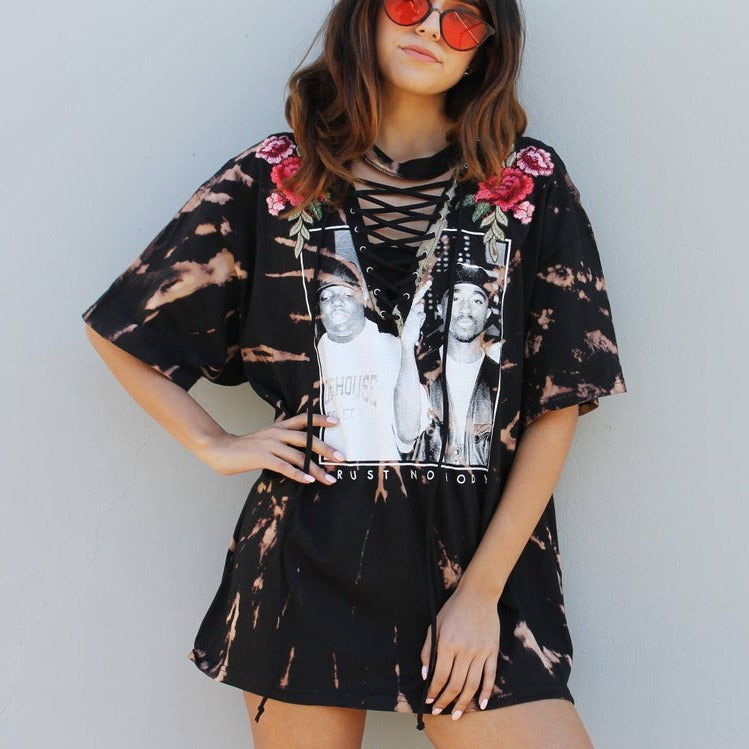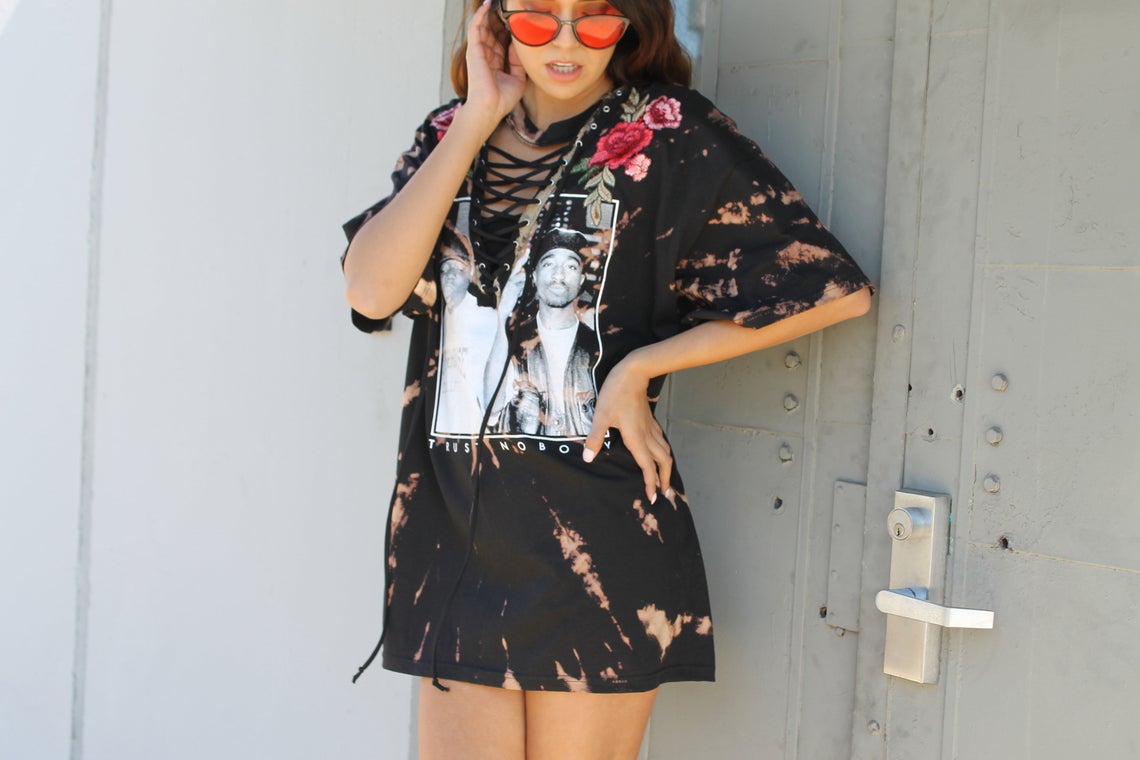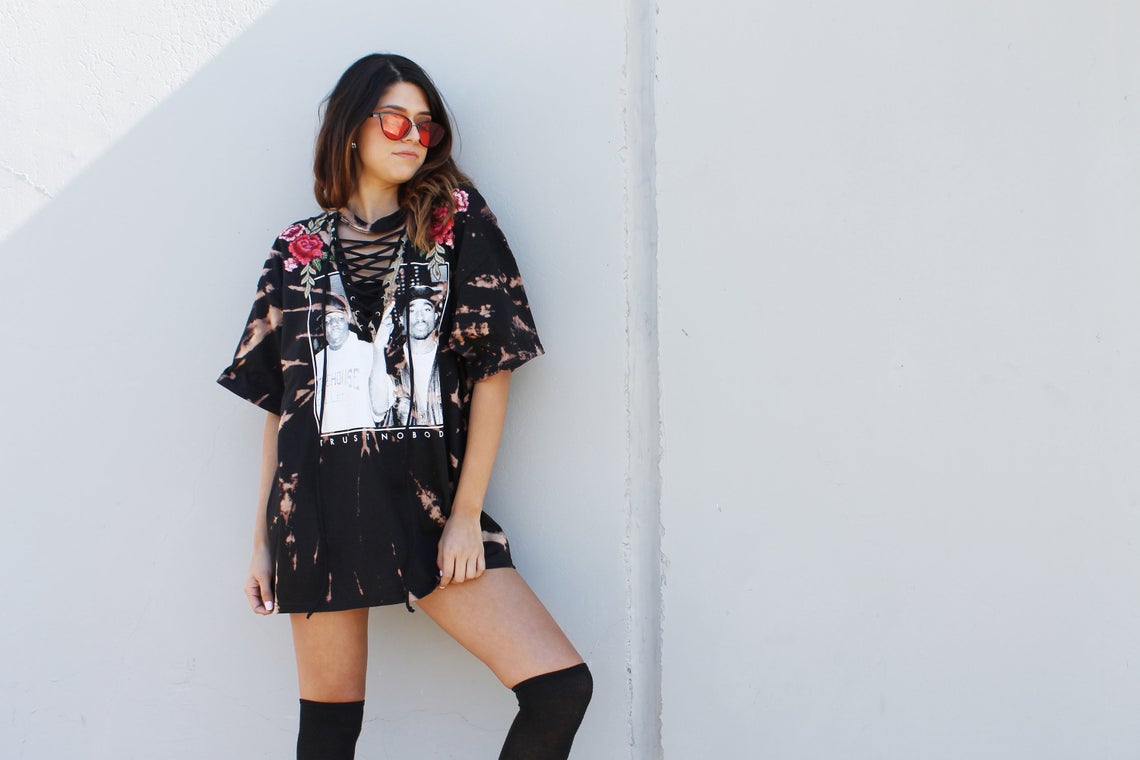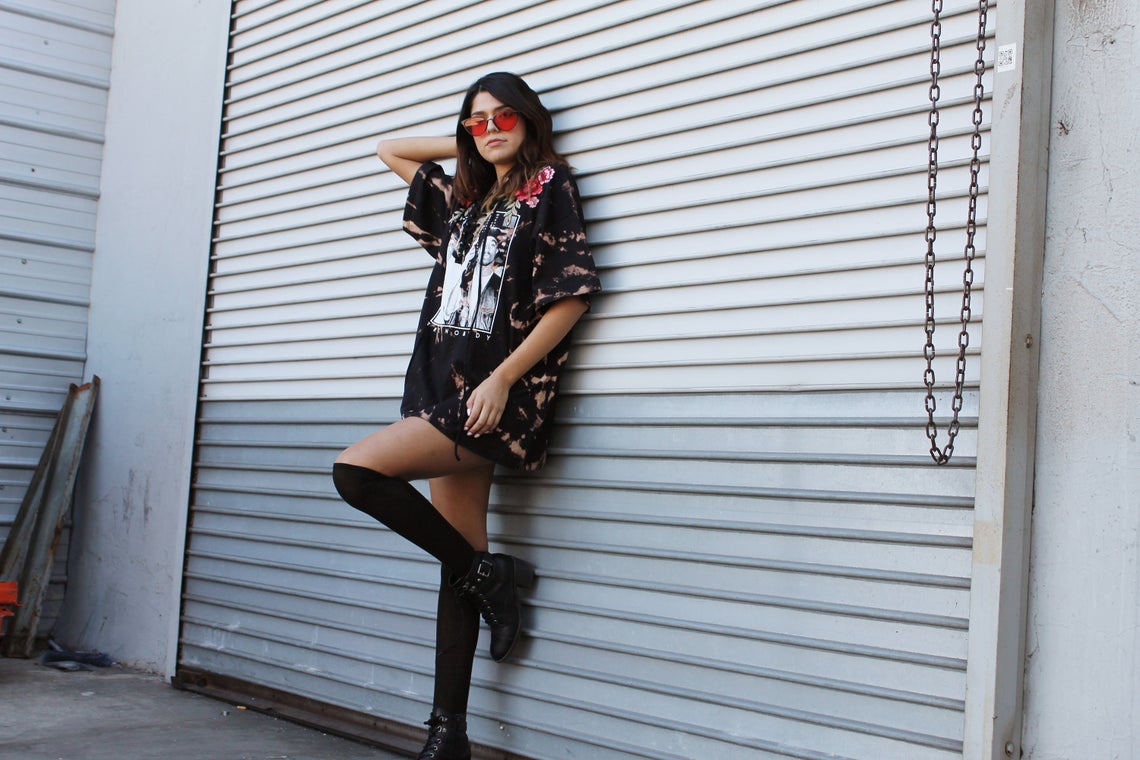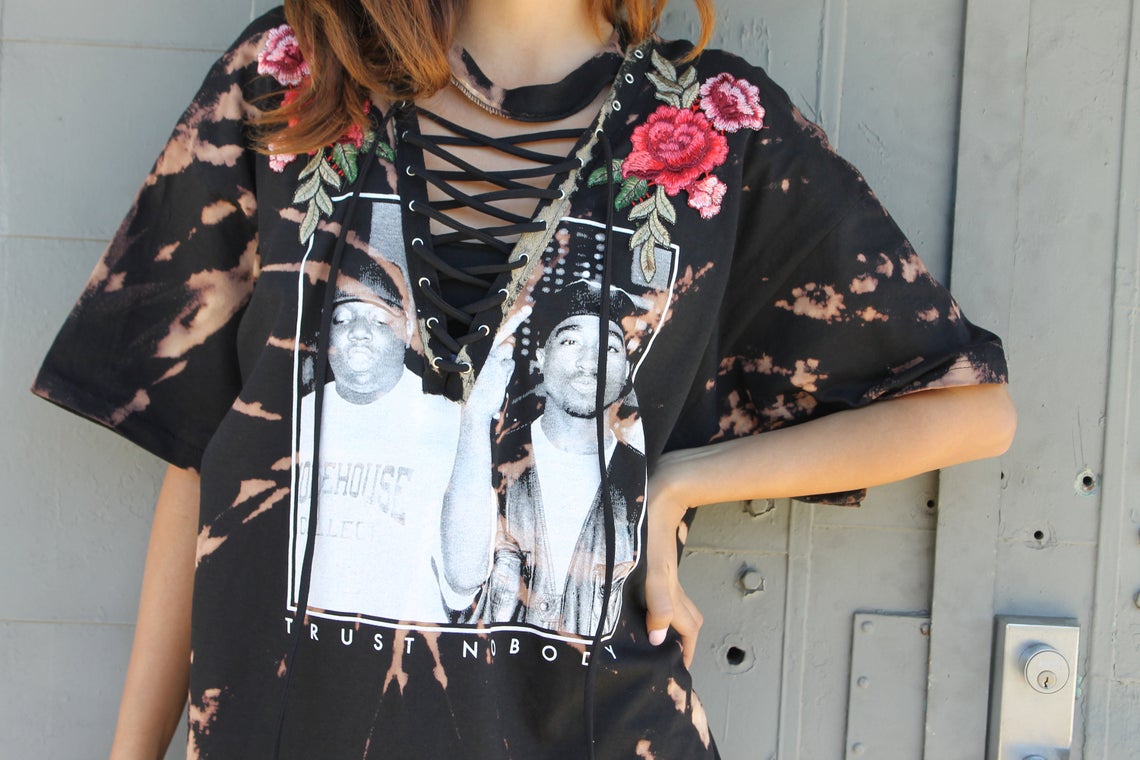 Collapsible content
Size Breakdown

URBNVTG offers different garments in various sizes, but also has one-of-a-kind pieces as well. Please see size breakdowns in indiviudal product descriptions for more information.
How It Works

HAND SELECTION - We go through thousands of pounds of used clothing every year to hand-select the best pieces for our collections. We decide which garment is going to be dyed with bleach and we discuss tie dye colors we will use for our new batch of clothing.

EXPERIMENT - We decide on our up-cycled designs for the collection & experiment with different materials, trims and zippers to decide the next design. We think about how this design can be a staple part of someone's wardrobe and how they could style this piece with items they already have.
PLAYING DRESS UP - Our clothing is sourced in the United States and our up-cycled pieces are sewn ethically and locally. We go through a quality control and make sure everything meets our standards. Our inspirations come from the idea of playing dress up. We think everyone deserves a little fun in their wardrobe.